Dev Log 71: EV2 Lands Tomorrow!
Entry posted by iamisom ·
3,497 views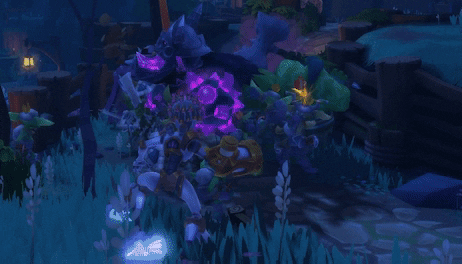 Josh Isom, Community Manager ([[4370,users]])
That GIF above? When Series EV2 comes out tomorrow, that'll be you. A special thanks to the RPG and RQA community groups for giving us a ton of feedback. Our team kicked ass at the 11th hour to make sure EV2 is the super fighting robot of your dreams. Can't wait to see what you think of our newest hero!
Speaking of new heroes, the Next Hero Influence Vote is ridiculously close! As I'm writing this, the Man & Machine and the Mystic are only 150 points apart. That's not a typo. 1-5-0. I think some crafty Defenders are trying to tie the votes. That would be extra clever of you, Team Chaos. I'm pretty sure Team Barbarian won't let that happen when the Barb vote begins on Friday. But who knows -- maybe some Team Barb faithful like one of the new hero choices more.
On a final note, our next milestone is about to begin. The team is ramping up work on the Server Browser, finalizing the Gun Witch and making notes on how to bring the four original heroes up to par with our newest heroes. Do you have any suggestions? Let us know in the comments!
Brian Goodsell, Lesser Digital Guru ([[49000,users]])
That's a wrap on Series EV2. Here, watch her explode. (Death VFX were finally applied.)
Beginning work on the Gun Witch basic attacks and making a list of the next series of bugs that need attention for the next major patch.
Currently Listening To:  "Turn the Season" by F**ked Up
Tim Shannon, PS4 & Live Producer ([[77554,users]])
The same thing we do every milestone Pinky:  try to ship on time.
Jesus Diaz, World Builder ([[39450,users]])
This week we are finishing up the frozen level! We need to give some more love to the background yet.
Daniel Diaz, World Builder ([[33096,users]])
Really excited about the release of the next hero! I'm finishing up the new ice level. We're having a lot of fun with the ice and snow. Hope we can develop more ice-themed maps in the future!
John Muscarella, Digital Puppet Master ([[57156,users]])
Gun Witch animations are done!  For now…  
As we start building her functionality, I'll definitely be revisiting her a few times. Iteration is key. I'll be moving onto other things in the meantime, and keep a close eye on her development through other departments.
James Reid, Software Programmer ([[56071,users]])
Excited to see EV2 get released! Hope y'all enjoy her! Now it's meetings to gear up for the next milestone. Also, full steam ahead on the server browser.
Chris Flores, Lead QA ([[59727,users]])
Crawling to the finish line to get EV2 out in all her glory.
Dani Moore, Remote QA Lead ([[25251,users]])
A massive thanks to everyone that helped playtest and give feedback in the Remote Playtesting Group and the Remote QA teams. You fine folks made massive contributions to the state of new hero, and your ongoing help has really made an impact and been felt by everyone at Trendy.
As we approach (or stumble or crawl to) the finish line for this milestone, folks that wanted to help out with EV2 but didn't get the chance will have a chance soon to help us out with our next hero and content. Stay tuned!
Steven Collins, Lead Level Designer ([[48993,users]])
Working on a new incursion! Can you guess what map this one will be on?