Entry posted by Joesith ·
11,342 views

Recently, we overhauled our visual effects style in DD2. Our old VFX style used the soft shapes and smooth gradients from the first Dungeon Defenders, but it didn't match what the game was currently achieving in its art style. DD2 uses bold colors and hard shapes, especially in the way we design and
build our worlds
. Our amazing 2D Animator Alexey Mescherin was already using a more hard-edged and bold color style in his animated flipbooks, so we needed our basic particles and accent components to match that same style and feel. Our goal was to emphasize very simple shapes, simple gradients if any, and bold colors in our VFX.
We went through our library of VFX assets and picked out the textures that no longer adhered to the visual style we wanted to achieve. I selected a group of textures that used soft shapes and gradients to experiment with. I brought these into Photoshop and played with ways to turn these textures into the hard-edged and bold look we wanted. I tried to find the basic shapes and elements of each texture to break them down to these core elements. I also made them uneven and nonuniform to bring more interest to the textures.
Then I compared the old and new textures side-by-side with a slight blur added to make sure they still had a reasonable enough similarity between the two. Because we were replacing the old textures with these new ones, we didn't want to completely change the intent and feel of the VFX.
We didn't change every soft shape and gradient, though. There are some visual effects that we kept in the old, softer style. For example, we kept certain types of smoke and fog -- volumetric fog, candle smoke and distance fog/smoke -- in the old style for places that are more ambient and less volatile.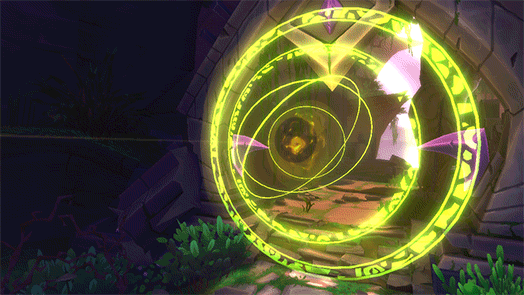 Adjusting to this new style of VFX has been a major hit internally at Trendy, and we are continuing to move forward with it. The hard edges add a very nice banding to our VFX that really push the cartoony stylized feel we want to achieve with DD2. We hope you all enjoy this new approach with our VFX as much as we do!
How do you feel about the bold new VFX style?
Tell us in the comments below
, and you could win a pre-alpha code for Dungeon Defenders II! You have a full week to leave a comment. We'll pick a random poster and reveal the winner next Friday. Don't have a forum account? It takes less than a minute to
join
!
Also, there's still time to enter the giveaway on the
Javelin Thrower Boogie blog
!