Entry posted by iamisom ·
3,860 views
Three more days. Just three more days until Dungeon Defenders II launches on Xbox One, PC & PS4. Three more days until the game is officially out of Early Access and free-to-play on all platforms. Excuse us while we hyperventilate. OH GOD. *grabs knees*
On June 20th, along with this major milestone in our game's history, we're releasing Update 1.0, which is focused on our New Player Experience. In our Devstream above and blog below, we'll walk you through the major beats of the patch. After June 20th, we're spinning up on lots of features and changes you've been asking for (Endless Mode says hi).
Launch is just the beginning. With your support, Dungeon Defenders II is only going to get bigger and better!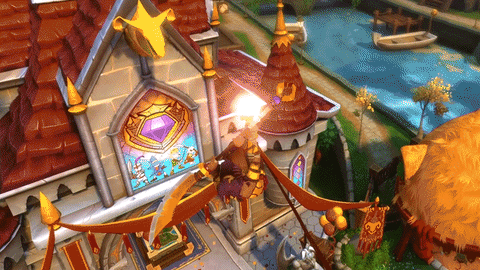 Gender Swap:  The Initiate
Come on and SLAM. The Initiate is joining us on June 20th!
 The Initiate is our first gender-swap hero. This powerful Chi-wielding warrior is the gender swap of our bald friend, the Monk. She uses the same defenses as the Monk, but she comes with a suite of new abilities.
Chi Stomp:  A powerful slam that can be activated in mid-air!

Crippling Chi Wave:  The Initiate builds up a glowing ball of Chi and launches it at her enemies, which damages and debuffs any enemies hit!

Talisman of Empowerment:  The Initiate places a talisman on the ground that temporarily boosts the power of nearby defenses!
The Initiate is available at a lower Gem and Defender Medal price than other heroes. And don't worry:  The Barbarian will have his time to shine soon.
New Tutorial Mission + Tutorial Videos
We've completely revamped our tutorial mission! Our new tutorial teaches players how to place different types of defenses, how to hotswap between different heroes and more. We've also added a new How To Play section with additional videos to teach players about advanced tactics, loot, Inventory and more.
Updated Campaign & Story
We've given our early-game experience some additional love! On several maps, we've added new mutators to keep the gameplay experience fresh through the Campaign. We've also fleshed out the existing story with new cutscenes and new in-game dialogue. If you've already played the Campaign, be sure to grab a new hero and check out the changes! There might be a few hints of things to come...
Incursions + Legendary Weapons
As part of our New Player Experience, we've introduced Incursions into Chaos! The goal of our Incursions is to provide variety and progression milestones as players progress through Chaos.
Each Chaos tier will now have its own unique Incursions. After completing an Incursion, you'll unlock unique Legendary weapons at the Wayfarer! The Wayfarer will forge these unique weapons based on your highest powered hero. The Wayfarer will sell these weapons for Defender Medals, so be sure to sell those Souls4Gold when the update comes out!
As for long-term gameplay variety in our endgame, we have a number of interesting changes and features we're going to add post-launch. Stay tuned!
Updated HUD + Health Bars
We've updated a number of our HUD elements to make the UI cleaner while providing more information. You can check out the Devstream video to see it in action, but the biggest change is the addition of hero deck hotkeys above the Health Bar. Now you can easily see which hero is in which hero deck slot hotkey, which is especially handy if you're the kind of player who constantly rotates heroes in and out of your Hero Deck!
New Summary Screen & Score System
It's finally here! We've implemented a new summary screen at the end of the match, and the biggest new change here is our score system! Each match, you and your team will be given a score based on how well you played and built. We've included a number of multipliers in this first iteration of the score system. Optimize your builds to get the best score! In the future, we plan on adding leaderboards, rewards and more based on our score system!
PS4 Optimization
This update improves PS4 framerate, especially when a lot of enemies are on-screen at once. This is just the first of our optimization updates for the PS4 -- shortly after launch, we have a litany of other changes that should improve framerate even more!
Shard Buffs
We're continuing our Shard Buffs! These buffs are focused on hero-specific Shards, especially on Defense Shards. More Shard Buffs (and Defense Buffs) will come post-launch!
First Shard Icon Updates
We've updated the icons of some of the more popular Shards to help you find them easier in your Inventory. We'll continue to update our Shard system, you guessed it, post-launch.
Host Option:  Minimum Ascension Level
In the update, you'll be able to set a minimum Ascension Level for your matches! You can use this feature to reduce the number of new players jumping into Chaos VII matches -- of course, if you want to help the newbies out, you can keep this set to 0. More host tools are on the way!
Hero Renaming
Hero renaming! For free! From the Inventory, you can rename all of your heroes as often as you want.
Multiplayer Scaling Bug Fix
This update fixes a bug where multiplayer enemy health scaling was scaling higher than intended. Per-player enemy health scaling will now be +25% rather than +50%. Go forth and defend with friends!
New Tower Skins
We've added several new sets of Tower Skins so you can betterfy your towerz.
Full Controller Support on PC
Now you can play and access everything on PC with a controller, including the Options Menu!
Bug Fixes
Tons of them.
We can't wait for Tuesday. We'll see you there, Defenders!
Love,
The Trendy Team